The next gen of under the TV entertainment goliaths is looming large and excitement for the innevitable 2013 announcements about what the big three (Sony, Nintendo and Microsoft) plan to unleash is beginning to crackle across the tubes.
From the rumblings we've heard from deep within the techisphere, we have pinpointed five things that we think will become common as part of the everyday gaming landscape in the years to come. Your bets please, ladies and gentlemen!
Multiple screens
The fabled 'second screen' is the games industry's new black this year and buzz word du jour at tech events across the land. The second screen is one talking point however, that shows signs of being more than a passing fad.
The Wii U, SmartGlass and Apple AirPlay are all current examples of the big vendors thinking about how various devices can be glued together via software and services. Looking forward, the highly publicized leak of Microsoft's roadmap for the next Xbox detailed a tangle of interconnected goodness, concerning phones, laptops, tablets and TVs all working seamlessly together.
Given that so many of the use case scenarios surrounding second screen usage have emerged organically, it's no surprise that research and development labs everywhere are dreaming up ways to bring these sorts of user behaviors under a more prescriptive umbrella of services.
The challenge will be balancing what the average user can manage in terms of simultaneous attention and juggling multiple input channels – we're all going to need an extra pair of eyes and arms to cope with it all!
Game streaming
To a large extent, this is already here, with services like Onlive and Gaikai gobbling up a country mile of column inches over the last year. Indeed, Sony's shock acquisition of Gaikai all but confirms that the next iteration of the under the TV Playstation hardware will include a game streaming service of some sort.
It's unlikely that Microsoft will want to be left out of that party and will almost certainly seek to deliver a similar service with its next console, too (though Nintendo will almost certainly ignore the tech for a good five years, much like it has done with Online services).
The introduction of streaming services has some far reaching ramifications for the industry. Consumers won't need to upgrade hardware anymore, ISPs will have to shovel around ever greater volumes of data and the hardware performance bottlenecks that go a long way towards shaping the exclusivity of titles from third parties will change, too.
Crazy magical tech that you wear
No, we're not talking about the Nintendo PowerGlove. Nor are we talking about the Wii's Vitality Sensor. Wearable tech has failed to take off over the last decade, mostly because the examples that have come to market so far tend to make the wearer look like clownish, future-obsessed madcaps.
The difference now is that components such as processors, batteries, miniature displays and wireless radios, are getting small and power efficient enough to fit into some reasonably inauspicious designs at a manufacturing cost that makes sense.
That means glasses, watches and jewellery that can have a tangible technical relationship with your gaming life. Google's Project Glass is already blazing a trail and Microsoft's similar Fortazella product that was leaked last month implies that the big players are thinking of ways to guarantee even more constant access to eyeballs.
Flexible payment options
Free-to-play as a method of paying for content is nothing new, but its current application in the console gaming world is sparse. Meanwhile, free to play monetization is running rampant on every other platform (PC, Web, Mobile) and the standard of the games is steadily approaching parity with what a big budget boxed retail product can offer.
Only an exceedingly small number of games are already embracing this level of consumer flexibility in the console space (NCP's very promising online multiplayer FPS Dust 514 and SOE's DC Universe Online – incidentally both PS3 titles) and it's a hard transition to make. Free-to-play monetization has far reaching ramifications for product development, product marketing and even product design.
The big budget blockbuster is a deeply entrenched part of the whole boxed retail paradigm for games delivery and old habits die hard. Certain major industry figures in triple A console development, such as Crytek Boss Cervat Yerli, have already pledged their support for free-to-play as the inevitable successor to packaged games. It seems likely that the big vendors will be looking to expand this element of pricing flexibility for customers significantly in the coming generation.
Crowd-funded, open and cheap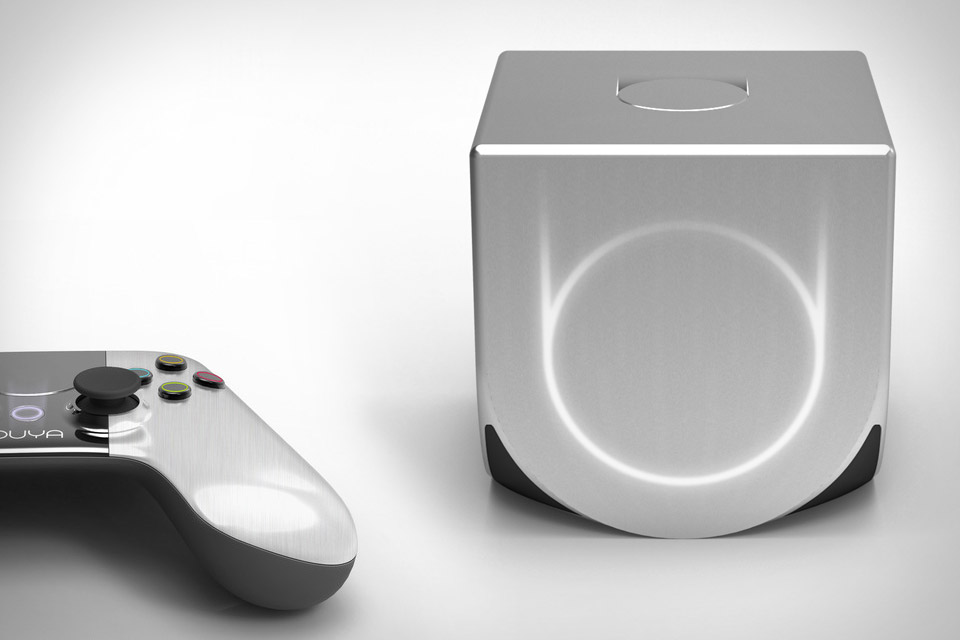 Though it may be comparatively underpowered to what Sony and Microsoft eventually unveil, there's no denying that the OUYA is a forward looking concept that has all the hallmarks of classic disruptive technology.
Currently sailing close to 6 million dollars' worth of pledges on Kickstarter (against an original target of just 950,000), the OUYA console is already lock and step with the zeitgeist of technology by effectively being born virally.
So what of the console itself? Well, it has a spec sheet that looks roughly comparable to the current Xbox 360's, making it no match for the next generation of consoles technically. It's important to consider how OUYA is different.
Being completely open and hackable, and adopting the Android operating system, the OUYA offers developers the opportunity to stake a claim for some HD screen real estate in the living room, without having to pay exorbitant licensing or development kit fees (which are typically associated with the big three, Sony, Microsoft and Nintendo).
The democratization of development that was brought about by the arrival of iOS and Android will be transposed by OUYA, onto a screen where people consume very different types of content in a very different way – all for just 100 bucks.
That means more creativity from developers and, much like in mobile, cheaper content for consumers. The downside will be the inevitable deluge of substandard titles and the associated problems of discovery for consumers that come with that. Still, the OUYA challenges what next gen means and is likely to spawn a few imitators throughout the coming generation.